Of all the pasta dishes, this cacio e pepe recipe is one of my favorites to make and, of course, eat. When the dish comes together "just right" it's a creamy, cheesy masterpiece.
While the ingredients list is relatively simple, it does not mean it is a simple dish to make! This dish takes practice and an understanding of how the sauce should come together. That being said, it's well worth the effort. Once you get the hang of it, it's a dish you can whip up with ease. 
Today I'm sharing my cacio e pepe recipe. This is the process that works well for me, but if you have other variations you swear by for this dish, I'd love to hear them in the comments! And if you want an extremely detailed recipe with a lot of helpful advice for getting a smooth sauce, check out this link.
Cacio e Pepe Recipe
Ingredients
16 oz bucatini (or similar long pasta)
1 ½ cups Pecorino Romano, finely hand-grated, plus more for garnish (I've also used Parmesan as well if you don't have Pecorino Romano on hand.)
2 Tbsp unsalted butter
2 Tbsp olive oil
1 tsp freshly cracked black pepper, plus more for garnish
Salt
Cooking Tools
Stainless steel pan
Pasta pot
Grater
Wooden spoon
Slotted spoon
Tongs
Cooking Process
You can also watch my cacio e pepe Instagram reel if you want to see this process in action!
Start by filling up the pot with water and making sure you salt the pasta water really, really well. Don't skimp! When you taste the water, it should taste like the sea. (The salt you put in the water ends up in the sauce as well since you use some of the pasta water in the dish.) 
Bring the water to a boil, add the pasta, and cook according to the package directions.
A couple of minutes before the pasta is done cooking, melt the butter and olive oil in the pan over medium heat. Once the butter melts, add a ton of freshly cracked black pepper on top (I add around ~20 grinds of pepper). This process is called "blooming." Stir the mixture for about 1 minute.
About 1 minute before your pasta is done, take 1/4 cup of the pasta water, put it on top of the butter/olive oil/pepper mixture, and stir until it turns into a thicker sauce.
Use tongs to remove the pasta directly from the pot, add it to the pan with the sauce, add the cheese on top, and rigorously mix. It should look like every noodle is glossy and covered in specks of pepper. If it doesn't, you can add more cheese and/or pasta water until you get the consistency right. The goal is to keep everything warm while you consistently stir. The end result should be a squishy-sounding pasta that's glistening in the sauce.
Put the pasta into bowls and top with a little more cheese and cracked pepper. Enjoy!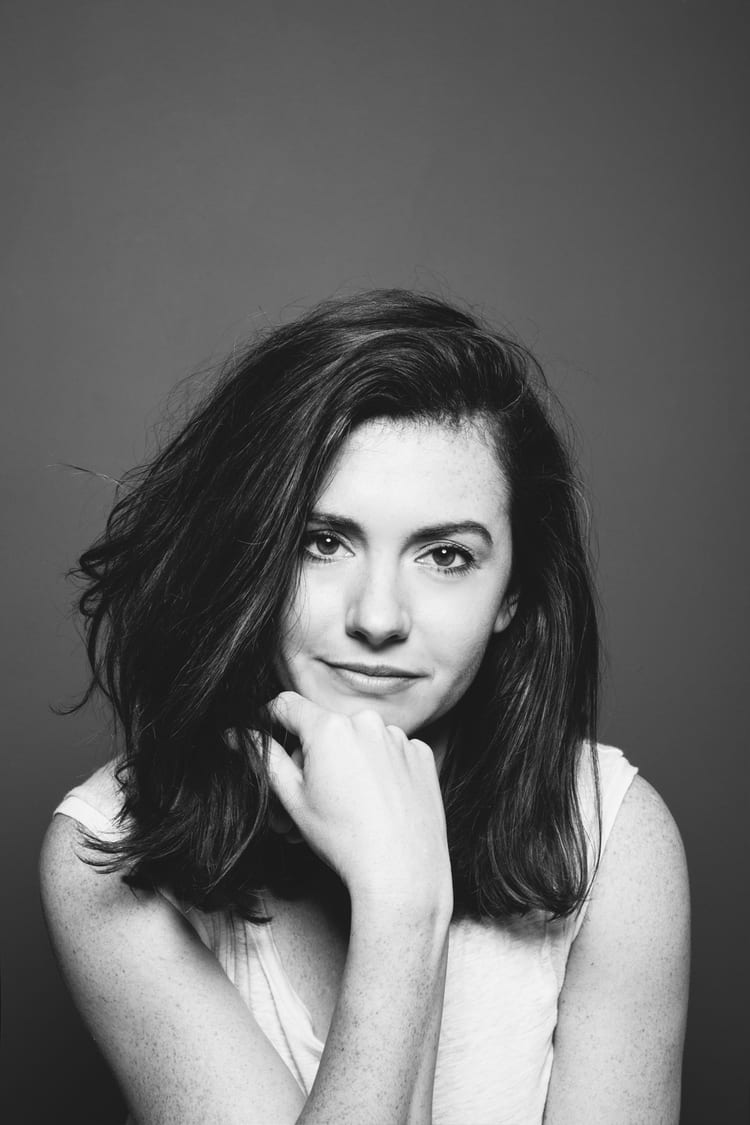 Kate is currently learning to play the Ukulele, much to the despair of her husband, kids, and dogs. Follow her on Instagram at @witanddelight_.